My book The Little Book of the Icelanders: 50 miniature essays on the quirks and foibles of the Icelandic people was released in July 2012 by Forlagið.
In 1994, I moved back to Iceland after more than 20 years of living abroad, and ever since I have been in the enviable (to me!) position of being both an insider and an outsider in Icelandic society.
I figure this makes me sufficiently qualified to dissect the national psyche of the Icelandic people.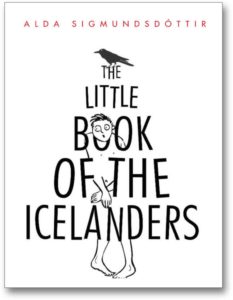 Among the fascinating subjects broached in The Little Book of the Icelanders:
the appalling driving habits of the Icelanders
naming conventions and customs
the Icelanders' profound fear of commitment
the Icelanders' irreverence
why Icelandic women are really men
how the Icelanders manage to make social interactions really complicated
the importance of the family in Icelandic society
where to go to meet the real Icelanders (and possibly score some free financial advice)
Rituals associated with weddings, confirmations, graduations, and deaths
… and many, many more.
To buy:
Kindle eBook (also available in Dutch)
ePub book
Hardcover book (ships from Iceland) in English, German, French, Spanish
I absolutely adored this book. I initially came across this book at a gas station few days into our trip and I'm not sure what made me pick up this random book, except that we had noticed… some quirks. I found Icelanders and their culture to be incredibly interesting and unique, yet fascinatingly paradoxical at times. This book was an absolute delight to read, insightful in many ways, and helped this one tourist going around in a circle understand and see beyond the hot dogs, wool sweaters, and beautiful vistas. I would also recommend some of the author's other little books as well. – K. Truong
I SO enjoyed this book! Very well written, funny, informative. I couldn't put it down and accidentally finished it in one day. I'll be purchasing more of Alda's books! – Rachel Roth
This is a very personal but at the same time quite comprehensive view of the Icelandic character and society, definitely worth reading before or during your trip there. Alda is an engaging writer. – Wayne A. Simpson
This highly entertaining little book cuts through the BS and depicts Icelandic people as they actually are. (It even told me some things I had not already learned after 8 months of living in Iceland, but which I can well believe.) It is a beautiful country and the people are pretty agreeable on the whole, but it irks me when outsiders quote all sorts of ill-informed nonsense and project their own fantasies onto the country. Having spent most of her early life in other countries, Alda Sigmundsdóttir has the advantage of being able to stand back from her own people and see their foibles in perspective, rather like standing back from a painting in order to see it better. Do not read this book if you want to carry on believing that Iceland is a democratic paradise, populated by Vikings (living alongside Elves) and devoid of earthly problems. – Christopher A. Smith
Last but not least: there is now a Facebook page dedicated to The Little Book of the Icelanders. Do join us there!