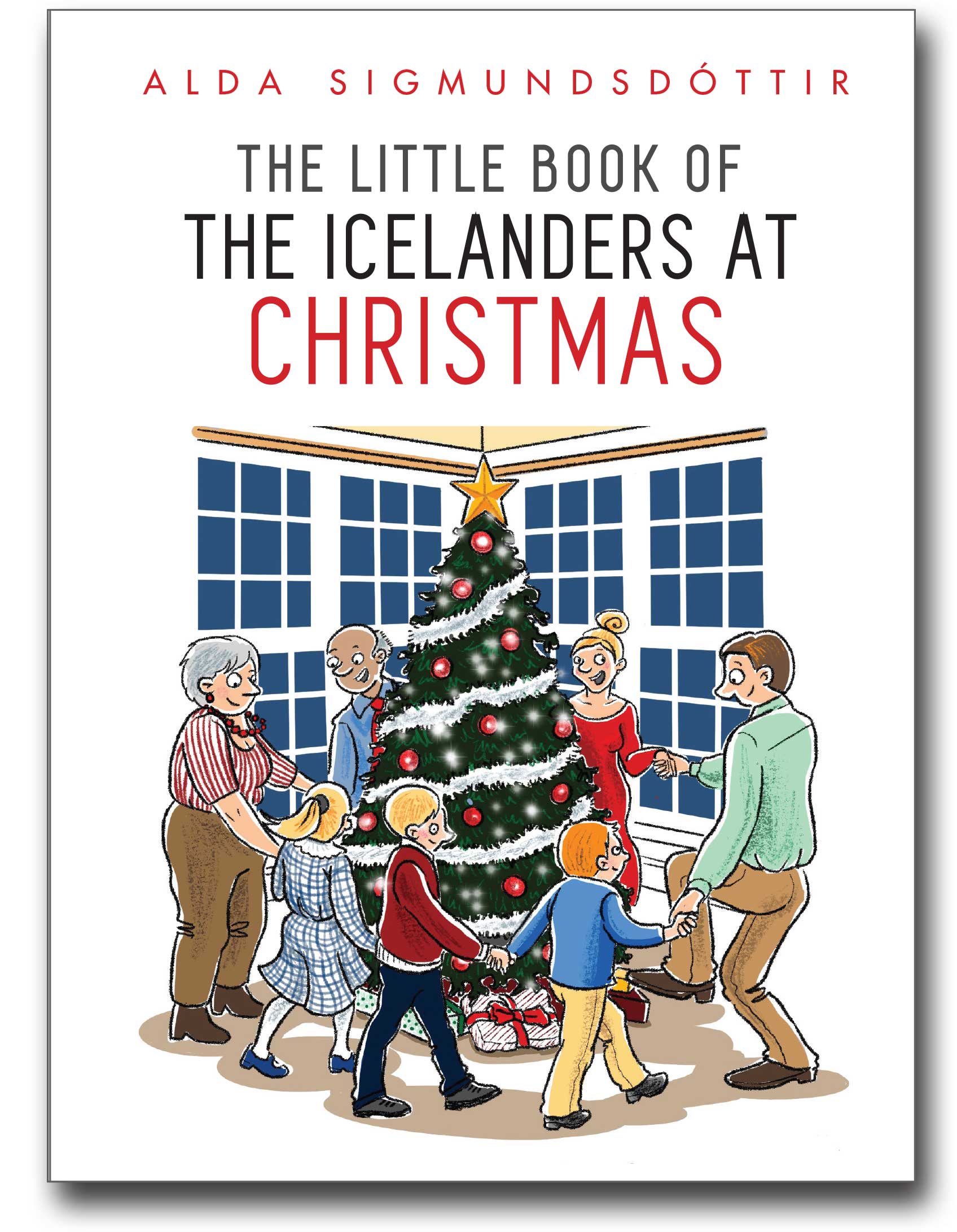 The Little Book of the Icelanders at Christmas
Christmas in Iceland is special. Ask any Icelander and they will tell you. It is a time of year when everything pulsates with vibrant activity, and the nation delights in those festive traditions that make them a tribe. Music is all around, friends gather, restaurants are filled with people partaking of festive Yuletide offerings, authors are out and about reading from their new works. Everything pulsates with a vibrant, happy energy. There is even a word for the gleeful excitement one feels when waiting for Christmas—jólaskap, literally "Christmas mood".
In this book, Alda Sigmundsdóttir invites you on a journey of Iceland's magical Yuletide season, all the way to New Year's Eve, and beyond. You will learn about the special foods, traditions and customs that makes Christmas in Iceland so special, and meet a colourful cast of characters that are such an integral part of the Yule. In her inimitable style, and using examples from her own life, Alda gives you not only the modern version of Christmas, but also the historical and cultural background to many of that traditions that are still observed today.
Buy on Amazon.com (available as eBook and paperback, also available in other Amazon regions)
Buy hardcover version (ships from Iceland)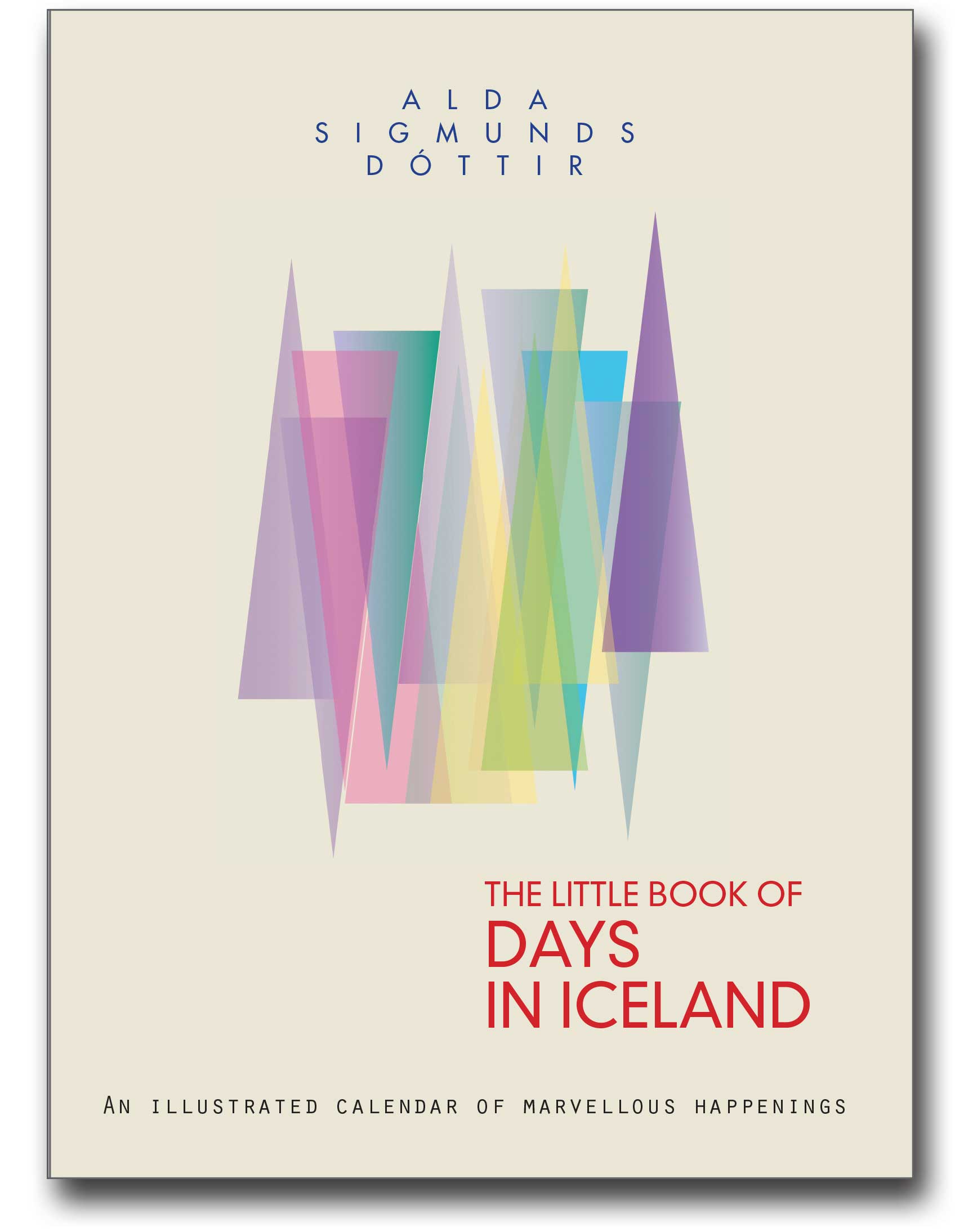 The Little Book of Days in Iceland
An illustrated calendar of Iceland's unique holidays and whimsical seasonal events
In Iceland, we have a saying: Að gera sér glaðan dag. It means "To make a happy day for yourself."
We Icelanders like to make happy days for ourselves.
Some of our days go back hundreds of years and celebrate special traditions or events in our history. Others are more recent additions, or are simply for fun.
In this beautifully illustrated book, we invite you to share in some of our happy days and seasonal events, and to gera þér glaðan dag. Some of the days and seasonal happenings you will learn about in this book, including their historical and cultural significance:
Þrettándinn, when elves appear at bonfires
Husband's day, when men get spoiled
The three crazy days leading up to Lent: Cream Puff Day, Bursting Day, Ash Wednesday
Þorrablót (aka "the festival of rotten food")
Women's Day (when the ladies get spoiled)
Beer Day
The First Day of Summer (celebrated in April, and a public holiday in Iceland)
Seafarers' Day
17 June, National Day
Midsummer Night
The Festival of the End of the Volcanic Eruption (Icelandic has a one-word name for that one)
The Day of the Icelandic Tongue
Sovereign Day
Christmas and New Year's Eve… and much more.
The book contains 60 beautiful illustrations that are as whimsical and fun as the days and events that they represent. An elaboration on each of Iceland's special days, including its historical and cultural significance, may be found at the back of the book
A delightful planner in which to jot down appointments, birthdays or significant events, or just to enjoy for the lovely artwork and warm and witty text.
The Little Book of Days is available as a high-quality paperback* and ships from Iceland. Order yours here.
*By high-quality paperback we mean that it is printed in full colour, and has a sewn, as opposed to glued, spine. That means that you can crack the spine and it won't fall apart.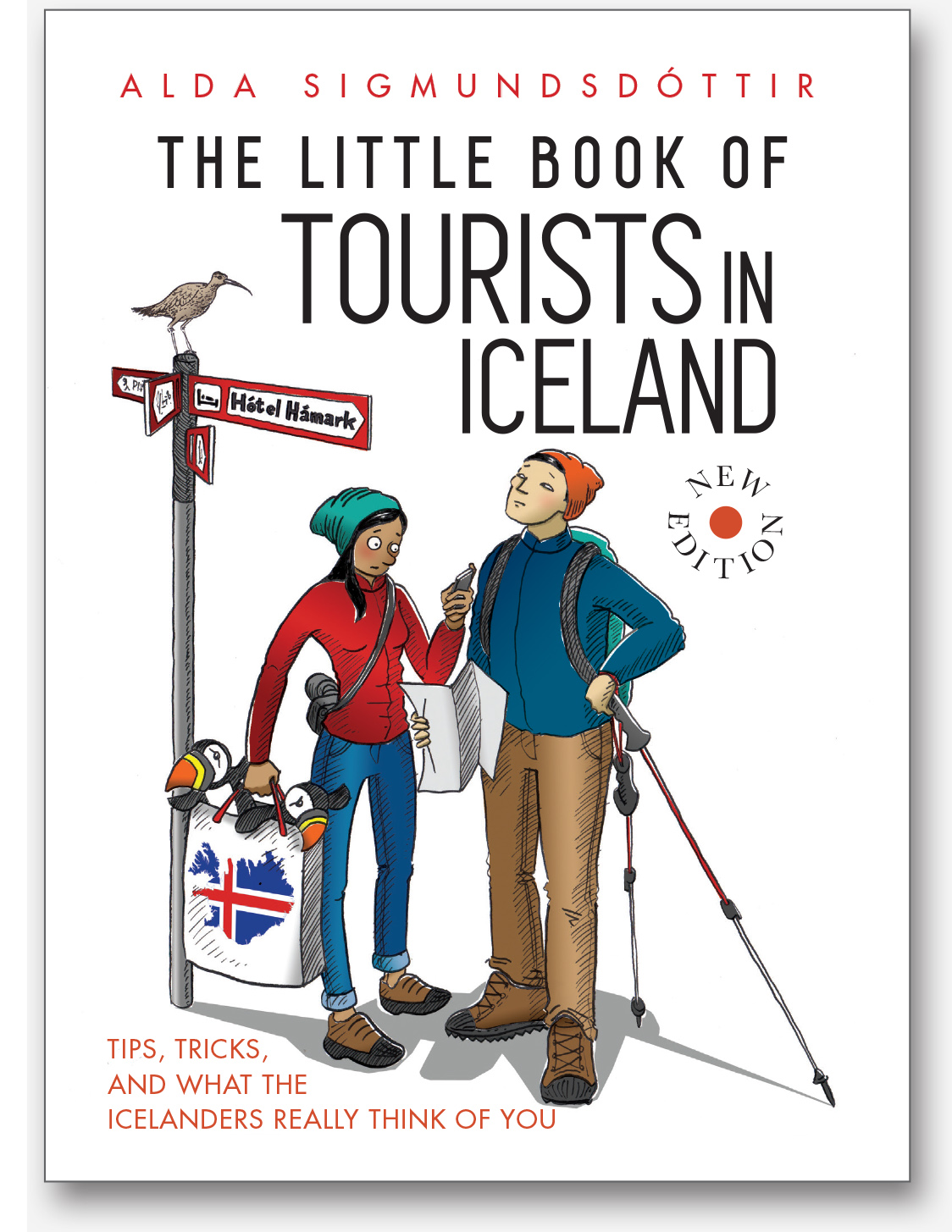 The Little Book of Tourists in Iceland
Tips, tricks, and what the Icelanders really think of you
Iceland is in the midst of an unprecedented tourist boom that has brought wealth to the country, but also myriad issues and challenges. Through a series of short essays, this book provides a unique insight into the social and environmental impact that tourism is having on Iceland, and with wit and intelligence offers invaluable tips for touring safely, responsibly, and in harmony with the locals. A fascinating resource for anyone interested in contemporary Iceland, and an essential companion for all visitors to the country. [more]
The Little Book of Tourists in Iceland is illustrated by Megan Herbert. Please note that the eBook is not illustrated.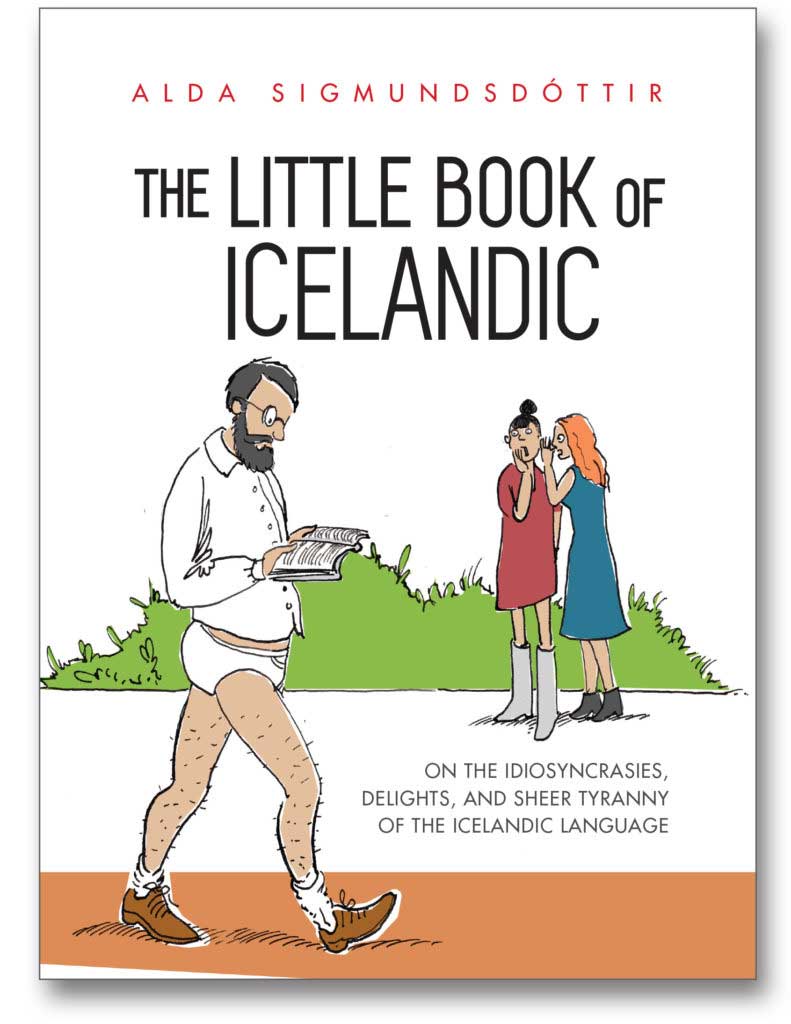 The Little Book of Icelandic
A book about one of the oldest and most complex languages in the world, and the heart and soul of the people who use it.
Icelandic is a complicated language. It's a bloody mess grammatically, a nightmarish mishmash of inflected nouns, verbs, adjectives and pronouns, corresponding to four different cases, three different noun genders, moods, voices and constructions, plus any number of exceptions and rules that seem completely arbitrary, and very often are.
This is not a textbook. It is not about the technicalities of Icelandic. Rather it is about the Icelanders' love of their mother tongue, their zealous attempts at keeping it pure, their often-hilarious way of cobbling together vocabulary, and their idioms and proverbs that are such a strong reflection of the things they consider truly important. All in short essays that are light, humorous, and easy to read.
The Little Book of Icelandic is illustrated by Megan Herbert. Please note that the eBook is not illustrated.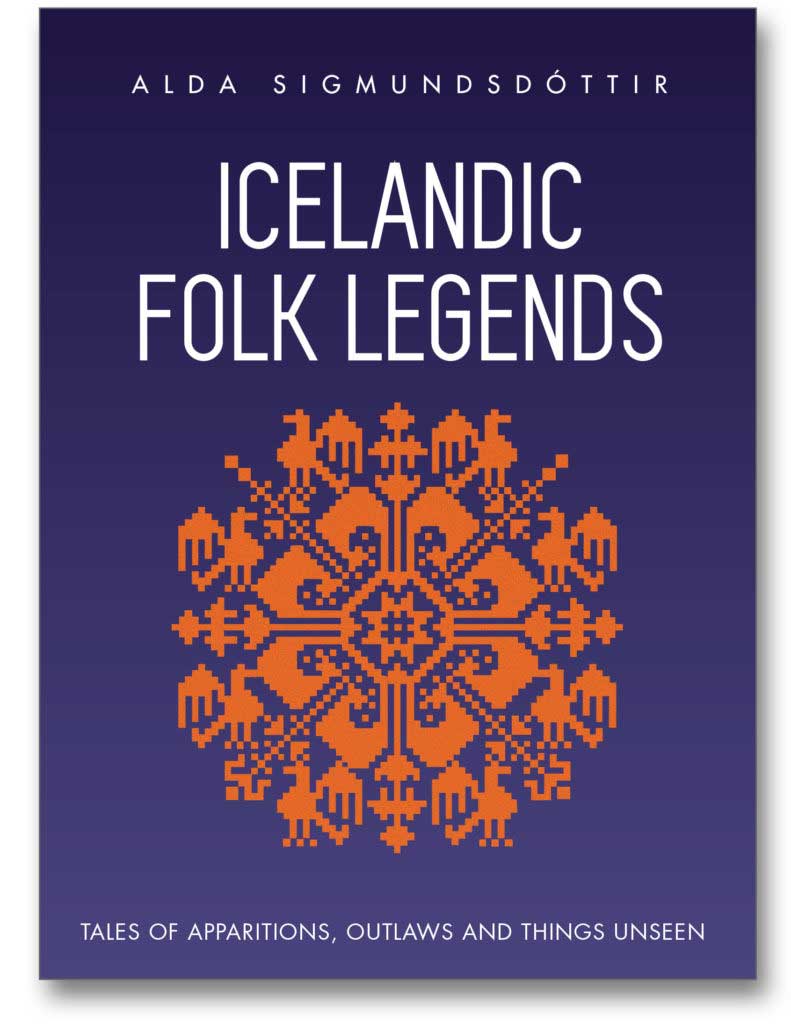 Icelandic Folk Legends
The Icelandic nation has a long and rich history of storytelling. Throughout centuries characterized by hardship, poverty and dark winters, the Icelanders kept their spirits high and moral values intact by telling each other stories. In this collection of 15 Icelandic folk legends, we get a glimpse of the world-view of the Icelanders in centuries past as they endeavored to understand and cope with the natural phenomena around them. There are stories of malicious ghosts, outlaws living in carved-out boulders, hidden people residing in grassy knolls, trolls that are tripped up by their own stupidity, and much more. In addition, there is one story exemplifying a fairy tale motif that scholars have discovered to be unique to Iceland: that of the good stepmother (The Story of Himinbjörg). Throughout we get a powerful sense of the Icelanders' beliefs, values and fears, as well as their strong need to cling to all that was pure and good.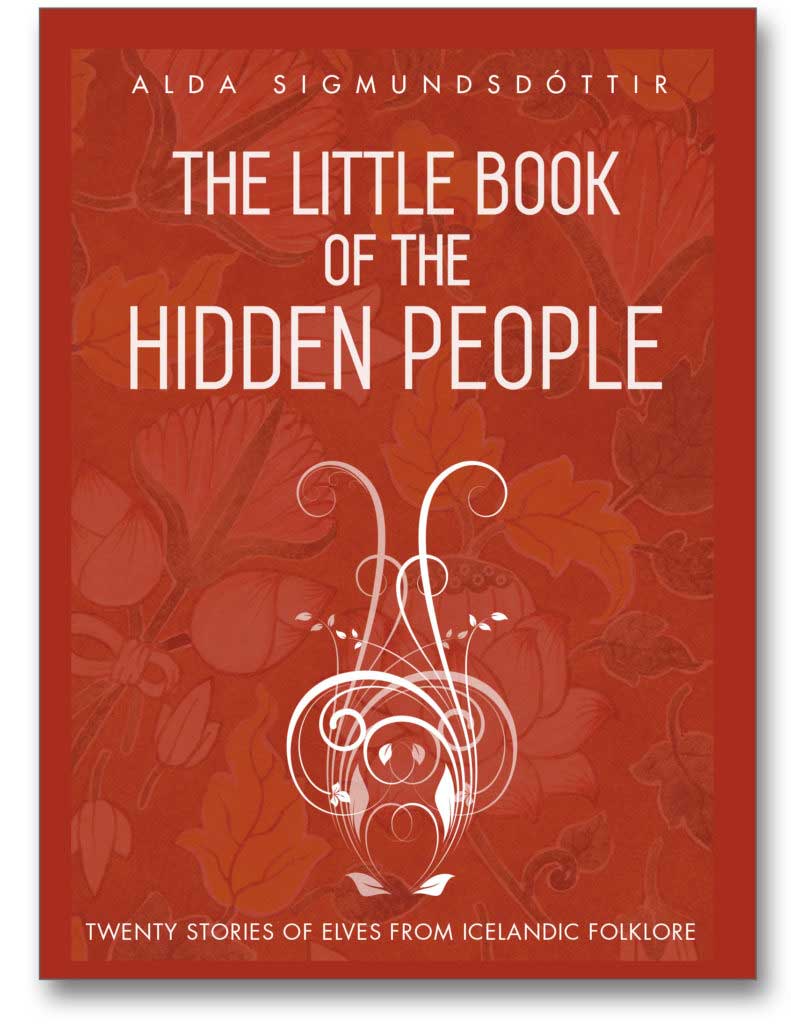 The Little Book of the Hidden People
Icelandic folklore is rife with tales of elves and hidden people that inhabited hills and rocks in the landscape. But what do those elf stories really tell us about the Iceland of old and the people who lived there? This book contains twenty translated elf stories from Icelandic folklore, along with fascinating notes on the context from which they sprung.
The international media has had a particular infatuation with the Icelanders' elf belief, generally using it to propagate some kind of "kooky Icelanders" myth. Yet Iceland's elf folklore, at its core, reflects the plight of a nation living in abject poverty on the edge of the inhabitable world, and its people's heroic efforts to survive, physically, emotionally and spiritually. That is what the stories of the elves, or hidden people, are really about.
The Little Book of the Hidden People is now also available in French and German.
The Little Book of the Icelanders in the Old Days
Iceland in centuries past was a formidable place to live. Situated in the North Atlantic Ocean, on the edge of the inhabitable world, the nation was both isolated and abjectly poor. Centuries of colonisation translated into oppression and subjugation from the colonial overlords, and a hostile climate and repeated natural disasters meant that mere survival was a challenge to even the hardiest of souls. In these 50 miniature essays, Alda Sigmundsdottir writes about the Icelanders in centuries past in a light and humourous way, yet never without admiration and respect for the resilience and strength they showed in coping with conditions of adversity that are barely imaginable today.
The book is illustrated by Megan Herbert. Please note that the eBooks are not illustrated.
For more information and reviews, please click here.
The Little Book of the Icelanders in the Old Days is also available in French and German.
The Little Book of the Icelanders
The original book of 50 miniature essays about the quirks and foibles of the Icelandic people. Among the fascinating subjects broached in The Little Book of the Icelanders:
the appalling driving habits of the Icelanders
naming conventions and customs
the Icelanders' profound fear of commitment
the Icelanders' irreverence
why Icelandic women are really men
how the Icelanders manage to make social interactions really complicated
the importance of the family in Icelandic society
where to go to meet the real Icelanders (and possibly score some free financial advice)
Rituals associated with weddings, confirmations, graduations, and deaths
… and many, many more.
Unraveled – a novel about a meltdown
Unraveled  tells the story of an Icelandic woman, Frida, who after a 12-year absence returns home with her husband, Damien, a suave and sophisticated British diplomat who has just been made Ambassador to Iceland. It is summer 2008, and the global economy is on shaky ground. As the Icelandic economy begins to spiral out of control, Frida and Damien's marriage starts to unravel. Seeking refuge, Frida travels to a small fishing village on Iceland's West Fjords, where a chance encounter with a stranger turns out to have greater implications than she could ever have foreseen. With Iceland and Britain locked in a bitter diplomatic dispute, Frida is forced to examine her marriage, her loyalties, her past, and ultimately to answer the question: What exactly constitutes betrayal?
For more information and reviews click here.
To buy:
Living Inside the Meltdown
In October 2008, Iceland went from being one of the wealthiest countries in the world to being one of the poorest, within the space of about two weeks. During those sensational few days, regular citizens stood by helplessly and watched as Iceland's three large commercial banks folded and Iceland's currency, the króna, plummeted in value, eventually becoming worthless outside of Iceland.
Living Inside the Meltdown is the first published collection of interviews with ordinary people about their experiences of Iceland's economic meltdown.
How did a police officer feel who had to take a stand against protesters during the ensuing political crisis, which culminated in the Kitchenware Revolution? Did sympathize with them, or was he opposed? How did someone who worked in a bank feel on the day it collapsed? What about those people who were students abroad when currency controls were suddenly implemented and they were cut off from their financial source? And what about foreigners in Iceland who had limited understanding of what was going on?
I found these answers, plus many more that I wasn't even looking for, in the interviews.