Tips, tricks, and what the Icelanders really think of you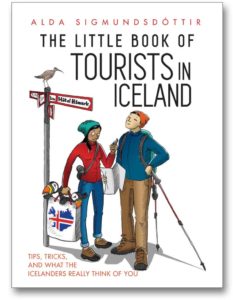 Iceland is in the midst of an unprecedented tourist boom that has brought wealth to the country, but also myriad issues and challenges. Through a series of short essays, this book provides a unique insight into the social and environmental impact that tourism is having on Iceland, and with wit and intelligence offers invaluable tips for touring safely, responsibly, and in harmony with the locals. A fascinating resource for anyone interested in contemporary Iceland, and an essential companion for all visitors to the country.
Buy Kindle book
Buy quality paperback (bound spine, with flaps, ships from Iceland)
Buy ePub version (or via iBooks, Kobo, or wherever you get your eBooks)
Buy paperback (via amazon.com, or your nearest Amazon site)
In this book you will read about:
Why now? – Reasons for the tourism boom in Iceland
The impact of tourism on Iceland's housing market, health care system, law enforcement, search and rescue operations, and more
Touring Iceland and staying safe: the main dangers of travel in Iceland
Out driving: essential things to keep in mind on Iceland's roads
What they think of us: complaints that tourists of different nationalities have about Iceland and Icelanders
What we think of them: tourist behaviours that really, seriously irk the Icelanders
Crazy stories of tourists in Iceland
The environmental footprint: depletion of natural resources, pollution, and the physical impact of tourism
Taxing tourists, or not – the options available, and the problems with each
How the locals really feel about the tourist invasion
The truth about those Iceland myths: jailed bankers, refusal to bail out banks, believing in elves, incest app, promiscuity, disgusting food
… and much, much more
What people are saying:
Loved this book
Very informative, about problems from and for tourists, tips and hazards of beautiful Iceland. Read and take heed.
Learn from a local
This books holds useful travel information if you plan to visit Iceland; and interesting,amusing stories about the culture and their not long past financial collapse and recovery. Written with just the right amount of humor. It's a great little book that I was sorry to have end. Highly recommend.
Informative & Enjoyable Read
Since I may not actually meet any Icelanders when I cruise around it, this book allows me to understand some of the concerns that beseige the country. Hopefully, I'll be a better guest by having read the book. Concerns for water, toilet paper, erosion, private property, etc. fit right in with my earlier training of Leave No Trace. Highly recommend for quick insight into Iceland's current concerns.