Recipes
The recipes below are traditional to the Icelandic Yule. They are from The Little Book of the Icelanders at Christmas.
Gingerbread cookies (Piparkökur)
500 g all-purpose flour
250 g sugar
180 g butter
100 ml golden syrup
2 tsp baking soda
2 tsp ground cloves
2 tsp ground ginger
1/2 tsp ground white pepper
4 tsp ground cinnamon
100 ml milk
Place butter and syrup together in a saucepan and melt together over moderate heat. When butter is nearly melted add all the spices and stir to combine. Remove from heat and place dry ingredients in a bowl. Add syrup mixture and milk to the dry ingredients and blend until smooth. (If you do not have a stand mixer you may need to knead with your hands.) Cover the bowl and leave the dough to cool in the refrigerator overnight. Before making the cookies, allow dough to stand at room temperature long enough for it to soften slightly.
When you are ready to begin, roll out the dough evenly and thinly on a floured surface. Cut the dough with cookie cutters and place on parchment paper, baking at 195°C for 6-7 minutes. The cookies will rise slightly during baking. Remove from oven and place on a rack to cool. Decorate with coloured frosting.
Frosting:
1 cup icing sugar
1/4 cup milk
Food colouring
Sift the icing sugar into a bowl. Add enough milk to make it smooth but not too runny. Divide this mixture into as many bowls as you want colours for your cookie masterpieces. Add food colouring to each bowl, enough to get the hue you want. Go wild decorating!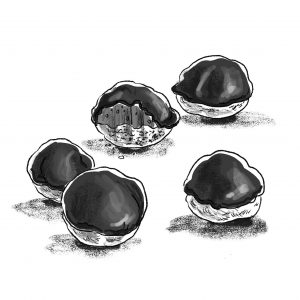 Sarah Bernhardt cookies
For the base:
260 g almonds
230 g icing sugar
4 egg whites
Grind almonds to a fine meal in a food processor. Beat egg whites until they form peaks, then mix together with almonds and icing sugar, making sure there are no lumps. Drop with a teaspoon onto a parchment-lined baking sheet and bake at 180°C for 11-13 minutes. Take care when removing the cookies from the parchment, as they may stick.
For the creamy filling:
120 g granulated sugar
100 ml water
4 egg yolks
1 1/2 tbsp cocoa powder
260 g soft butter
Place sugar and water in a saucepan and bring to a boil, cooking until the mixture begins to thicken. Beat egg yolks until firm, then carefully add the sugar mixture, continuing to beat for approximately one minute. Add the butter and cocoa powder and mix together with a spatula until there are no lumps. Apply the filling to the cookie base with a piping bag or spoon, creating a dome or cone shape. Cool or freeze for 1 hour.
For the top:
Melt semi-sweet chocolate in a double saucepan. When melted, dip the cookie in the chocolate so that it covers the filling. If the chocolate runs off the cookie, it is too hot and needs to cool a little. If it is too thick and does not easily cover the filling, it needs to be reheated slightly.
Sarah Bernhardt cookies keep best stored in the freezer. Enjoy!
Laufabrauð
500 g all-purpose flour
300 ml milk
1/2 tsp salt
1 tsp baking powder
4 tsp butter
3 tsp sugar
1 tbsp caraway seeds (optional)
Oil for deep frying
Heat milk and caraway seeds (if using) in a saucepan until milk starts to foam. Strain to remove caraway seeds, then return milk to saucepan with the butter. Heat until butter is melted. Mix dry ingredients in a bowl and add the milk and butter mixture, then knead the dough until it is smooth and no cracks form.
Divide the dough into small round balls and roll each out very thinly on a floured surface. Place a plate on the dough and cut around the edges to form a perfect circle. Stack the rounded cakes in a pile with parchment paper between them.
Take each circular cake and cut decorative designs into it with a small knife. (Feel free to consult Google for inspiration.) Prick holes in the dough with a fork to avoid air bubbles forming. Fry the laufabrauð until golden brown in 180°C hot oil, flipping over once. Remove the laufabrauð from the oil, hold briefly above the pot to let the oil drain, then set on a paper towel. Cover with another sheet of paper towel, then place a saucepan lid on top to flatten it. Store in a closed container.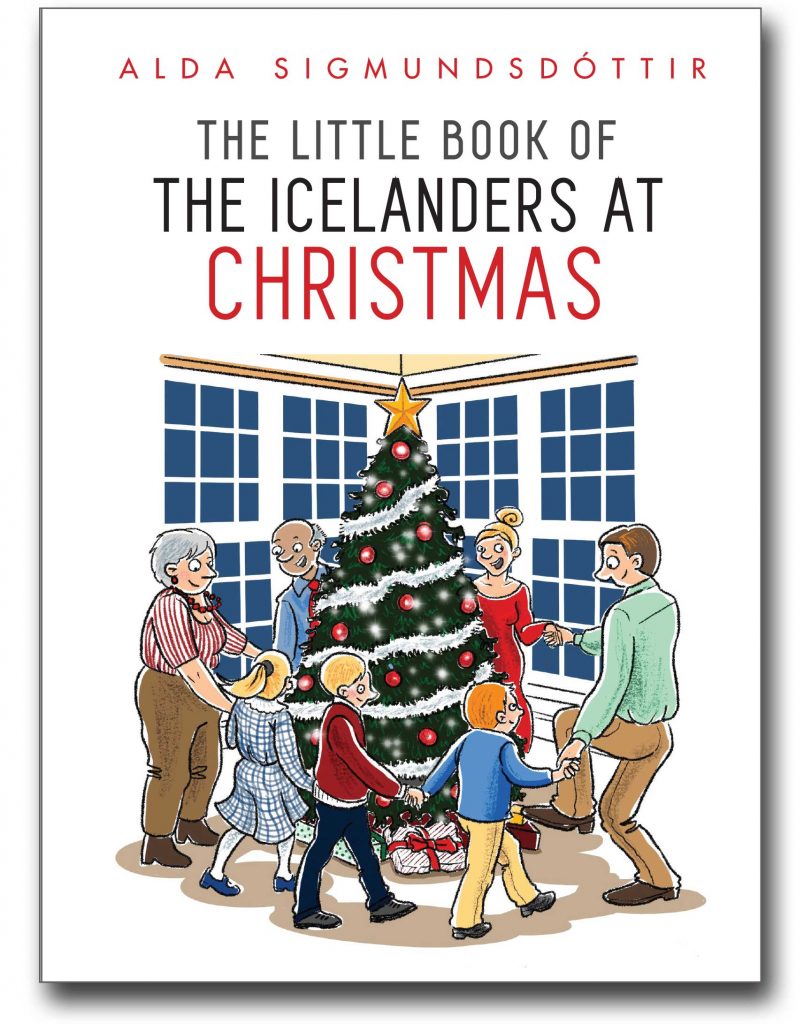 © Alda Sigmundsdóttir 2023 | All Rights Reserved