A few days ago, my book The Little Book of the Icelanders was published by a legacy publisher (Forlagið). I had originally released it as an eBook through my website, and it had done quite well (which I'm sure scored it some merit points in the legacy department, once again bringing home the importance of self-initiative and the magic of the Internet … but I digress).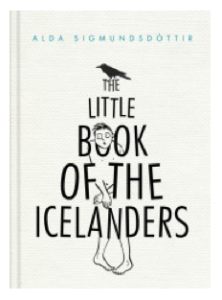 When it came to marketing the eBook, I wrote to a couple of places that I thought might be interested, and sent them review copies. Basically I focused on publications or web-based magazines that were in the business of writing about Iceland for the foreign market.
With the physical book, the publisher sent out review copies to the media. To be honest, I didn't think there would be all that much of a response … the book is small (in size) and ostensibly aimed at the tourist market (although I have always maintained that Icelanders could be just as interested in its content).
There was a response, though, and it was instant. In five days I've done two newspaper interviews, three radio interviews (all on a national level), and there are two magazine interviews lined up.
Above and beyond that, there was the response from my social media community – Facebook in particular. There were suddenly loads of people congratulating me, sending me warm wishes … celebrating with me. It was almost like my birthday!
Great as that was, it got me thinking about the different responses to eBooks and physical books. With the eBook version, I didn't do a lot to market it, so there wasn't this great exposure that I got with the physical book. Interestingly, though, it was written about in just about the same number of publications – but they were smaller, more specialized, and not with the same reach as the media that picked up on the physical book.
So why didn't I approach those media outlets with the eBook? Is it because I'm crap at promoting myself (I really am – I hate doing it) … or was it because I thought the eBook version was somehow less important than the physical version?
I fear it's the latter. I also suspect that, even if I had, I would not have received anywhere near the same level of interest.
Nor did I receive the quite same level of jubilation from my social media communities (Facebook, Twitter) with the eBook as with the physical book.
And yet, it is the same book. Just in different formats.
So even with the e-revolution in publishing over the past couple of years, and the gradual removal of stigma associated with self-publishing, words printed on paper apparently still carry a whole lot of clout, and give a book a stamp of respectability.
I wonder how long it will take for that to change.