You've seen the Internet memes, and possibly also Paul Krugman's enthusiastic columns proclaiming Iceland the poster child of economic recovery. Having in 2008 suffered the biggest banking collapse in history relative to its economic size, Iceland has now bounced back in spectacular fashion, with steady economic growth, virtually no unemployment, and only nominal inflation. On top of all that, the tourist industry is booming, and the building cranes are back. Time to party like it's 2007! … Right?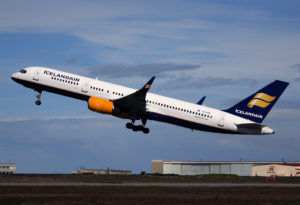 But lo! According to new figures from Statistics Iceland we are looking at mass emigration of Icelanders this year. A total of 3,120 people moved away in the first nine months of 2015, offset by 1,990 people moving back, resulting in net emigration of 1,130. This figure has only been higher in five other years in recent history, three of which were the years immediately following the economic meltdown. The others were in 1970, after the herring stocks collapsed, and in 1995 following a recession in the early 1990s.
Weird, right? Because if things are so great – as the current government is constantly telling us – why are all those people leaving?
Independent media outlet Kjarninn recently did a fine analysis of the exodus in an editorial, breaking it down into three main causes:
1. Young, educated Icelanders have nowhere to work
Young Icelanders generally have a high level of education, but here in Iceland there are few suitable jobs for them. Most of the jobs that have been created in the last few years are in construction, the service industries, or tourism – work that does not necessarily require a high level of education. Part of the reason is that the business environment in Iceland is hostile to companies that want to compete in international markets. Most leave the country, or establish subsidiaries or work stations overseas, where conditions are more favourable. Consequently we are experiencing a serious brain drain in this country.
2. Young Icelanders have nowhere to live
Traditionally the Icelandic rental market has been very small, since most people own their own properties. Finding a rental apartment to rent has been difficult at the best of times, and at the moment it is a nightmare. The boom in tourism has meant a proliferation of Airbnb rentals that a) take rental properties off the regular market and b) push up the prices of rentals that remain.
As for purchasing your own flat, that has become increasingly difficult as well. Assuming that young people are able to find an apartment to rent, these rents are so astronomical that they eat up the bulk of their salaries, meaning they cannot save for a down payment on a mortgage. And anyway, who wants to take out an Icelandic mortgage? Our mortgages are indexed to inflation, which means that the principal just keeps going up and up. People make monthly payments for years but never form any equity in their home or pay down the mortgage, as it just keeps increasing. It is a crazy system, and one that young people understandably reject. Add to this the fact that a real estate bubble has pushed prices up so high that it is incredibly difficult to save for a down payment on a flat (in addition to the aforementioned problem of saving while renting).
The result? Since 2005 there has been a 60% increase in people 25-34 old who live with their parents. They have nowhere else to go – except abroad.
3. Young people are disillusioned with Icelandic politics
The current government administration serves the interests and needs of Iceland's elite and does very little to help out young people. Educational opportunities have been restricted. The Icelandic krona, the root of so many evils, including the housing/mortgage crisis, is used to subsidise the commercial interests of the wealthy, primarily those who are exporting fish. (Not coincidentally they are the main backers of the current administration.) Consequently the government has no interest in ditching the krona – a move that might make young people to want to stay, as it could begin to create the sorts of economic conditions that would utilise their education and help them buy their own homes.
EPI and I have four daughters between us, and two of them now live abroad. I would not be surprised if the other two left in the next couple of years. And much as I wish it were not so, I cannot blame them one bit. There is nothing for them here.
[photo found here]